The Collection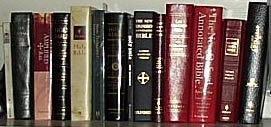 The collection will cover the following topics:
1st, 2nd, and 3rd Century Christian theology

1st, 2nd, and 3rd Century Jewish rabbinic theology

Conflicts between Jews and Christians leading up to the Holocaust

Post-Holocaust conferences of the Vatican and other Christian denominations, including all declarations and philosophical writings

Materials on Judaism that contain references to Jewish thinking about Christianity

Materials on Christianity that contain references to Christian thinking about Judaism
Access to the Collection
The collection is open to anyone. Readers will be asked for photograph identification showing name and address. Researchers, especially those visiting from a distance, are encouraged to contact our Library Staff before coming to use the collection. Written inquiries should be addressed to the Library for Christian Jewish Understanding, 9 Bayberry Ridge, Westport, CT 06880.
Research Assistance
Researchers may be interested in how to get started reading in Jewish Christian Understanding studies. A bibliography is available for this purpose. Links to other Christian Jewish web sites are also available.
Photocopying, Microfilming and Scanning
Due to the rare nature and often delicate condition of many of the materials in Special Collections, items may be copied or scanned by permission only.
Copyright Notice
Please be aware that materials found in the collection are governed by U.S. copyright law, and that to reproduce them for any purpose other than study may be a violation of federal law. If you wish to reproduce materials for any other reason, please be sure to contact Special Collections for permission.
Gifts and Bequests
The library welcomes gifts and is glad to receive books, pamphlets and other printed materials related to Christian-Jewish concerns. When such gifts duplicate what is already in the collection, it may be made available to other institutions or scholars.